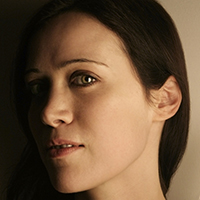 Laura Colucci, graduated in traverse flute with higest grades at the conservatory of music G. Rossini in Pesaro
in 1996, having studied with Giuseppe Pelura, Raymond Guiot, Konrad Klemm and Angelo Persichilli. She then graduated with honors in baroque flute, having studied with Barthold Kuijken, Marc Hantai and Frank Theuns at Koninklijk Conservatorium of Bruxelles. She was awarded a scholarship in 2002-2004 for a Professional Training program at the baroque and classical orchestra in Mondovì. There she made her debut at the Youth Orchestra "Montis Regalis" conducted by Luigi Mangiocavallo, Enrico Onofri, Amandine Beyer and Claudio Astronio. In 2004 and 2005 she participated at the"Professional training courses on Classical and Romantic Instruments" at the "Abbaye aux Dames in Saintes, playing with "Jeune Orchestre Atlantique" under the direction of Philippe Herreweghe, Christopher Hogwood and Robert Levin. Laura is founder member of "Accademia Ottoboni". She plays also with "Solamente Naturali" (Milos Valent), "Les Ambassadeurs" (A.Kossenko) "Orchestre des Champs-Elysées" (Philippe Herreweghe),"Il Complesso barocco" (Alan Curtis), "Academia Montis Regalis","Moderntimes", "Hamburg Barok", "Anima Eterna" (Jos Van Immerseel), "La Venexiana" (Claudio Cavina), Ensemble Seicentonovecento (F. Colusso) etc.
She recorded for Harmonia Mundi, Virgin, Atma Classic, Emi, Brilliant Classics, Sony, Erato.
She is one of the founders of Accademia Ottoboni.