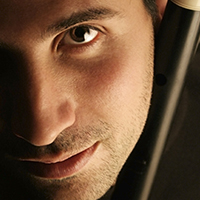 Manuel Granatiero was born in Naples in 1976.
After studying modern flute with R. Guiot (Accademia del Flauto Italiana), I. Grafenauer (Mozarteum Salzburg), A. Persichilli (Accademia Nazionale di S. Cecilia), and A. Marion (Academie de perfectionement de Nice), in 1998 he decided to devote his energies to the study of the historically informed practice.
In 1999 he was admitted to the Koninklijk Conservatorium in Brussels where he studied baroque and classical flutes with Barthold Kuijken, Marc Hantai and Frank Theuns, graduating with distinction in 2004.
Today he works as principal flutist (and only official wind player) of the ensemble Gli Incogniti conducted by A. Beyer, and collaborates with some of the most important orchestras specializing in the historical performance on period instruments, both as soloist and first part, such as Les Talens Lyriques (C. Rousset), Capella Cracoviensis (J.T. Adamus), Ensemble Pygmalion (R. Pichon), Accademia Bizantina (O. Dantone), B'Rock, Hollande Baroque Society, Le Concert de la Loge (J. Chauvin), Orchestre des Champs Elysées (P. Herreweghe), Ricercar Consort (P. Pierlot), Divino Sospiro, Australian Chamber Orchestra (R. Tognetti), Les Ambassadeurs (A. Kossenko), Le Cercle de l'Harmonie (J. Roher), La Chambre Philarmonique (E.Krivin), Concerto Italiano (R.Alessandrini), Ensemble Philidor (Mira Glodeanu), just to name a few.
He has recorded for many labels, such as Deutsche Grammophone, Decca, Sony, Naive, Deutsche Harmonia Mundi, Outhere-Music (Alpha, Zig Zag Territoires, Arcana), Glossa, Virgin Classique, Atma Classique, Radio3, Tactus, Stradivarius.
In 2004 he founded the ensemble Accademia Ottoboni in Rome.
The album Boccherini, recorded with this ensemble, dedicated to the chamber music of L. Boccherini and published with Zig-Zag Territoires Outhere-Music, was awarded best recording of the year 2015 in the "baroque instrumental" section by the renowned French magazine Diapason.
Light and Darkness (2022), his first solo album dedicated to the flute sonatas of C.P.E. Bach, published by Arcana Outhere Music, received great critical acclaim: Diapason D'or in March 2023, Top disc of the month for MusicPaper Magazine, disc of the week for the Berlin radio station Rbb-Kultur.
BWV or not (2017, Harmonia Mundi), in which he recorded the Sonata of the musical offering BWV1079 and J.S. Bach's Triosonata BWV1038, recorded with the ensemble Gli Incogniti, won the diapason d'or.
Nuova Stagione (2012, Zig-Zag Territoires, Outhere Music), in which he recorded Vivaldi's concertos RV431 and RV440 with the ensemble Gli Incogniti, was chosen by the magazine English Gramophone among the best six records of Baroque instrumental music of the year.
On the latest CD recorded with the ensemble Gli Incogniti, Il Mondo al Rovescio released by Harmonia Mundi (2022) he completed, under the advice of musicologist O. Foures, the concerto by A. Vivaldi RV432 by improvising the flute line on a chaconne bass written by Vivaldi himself.
Today he teaches baroque, classical, and romantic flute in Italy at the conservatories of Cesena and Brescia and he is regularly invited as a teacher of historical flutes in several international masterclasses, such as Urbino Musica Antica (FIMA) and Paesaggi Musicali Toscani.
He currently lives in The Hague, the Netherlands.